Playing solo matches in Free Fire can be really exciting as you are free to do whatever you want. But it also means you will not have anyone to rely on. Even a small move can lead to your death in a solo match. On the other hand, you can try new tricks and new play styles in solo matches. With that, it will help you develop one on one fighting skills and decision-making skills.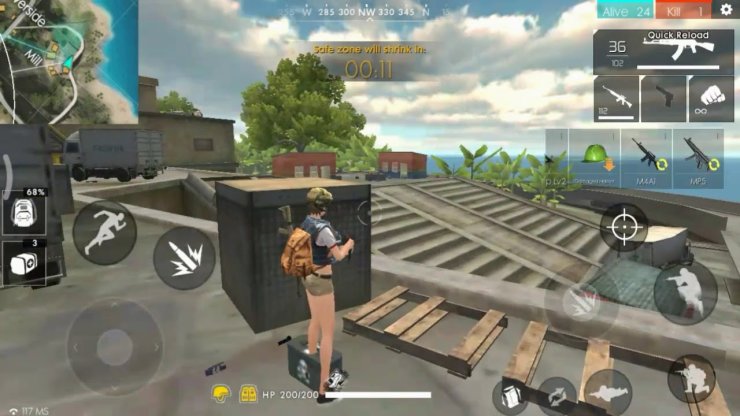 Best Tips to Survive Longer in Solo Matches
1. Landing: Landing is crucial for every player in Free Fire and when you play solo it becomes more important. When you play solo decide in advance where you will land because based on that you will face the enemy and get loot. If you do not want an instant fight then avoid the hot drop and go somewhere quiet to get loots. If you want fights instantly then you can land on Moathouse, or at Capetown.
2. Loots: In solo matches, you will not get any cover or revive from the team. So loot properly before engaging the enemy, and look for proper guns, health kits, attachments, and grenades. Also if you fight someone try to change your vest and helmet as soon as possible.
3. Map Awareness: If you are aware of your map in the game it would help you a lot. So if you are not aware of the map try to get familiar with terrain, routes, and areas to get proper loots. This way you can move with a strategy and plan rather than wandering alone in the open.
4. Be Patient: Do not rush things in Free Fire when you are solo. Look at the situation first and move with a plan. Also when you face an enemy keep yourself calm so that you can take the right decisions and defeat an enemy.
5. Playstyle: Each player has a different play style in which they are great. Some might be good at mid-range battles some might be good at long-range. Or they might be an aggressive player who is good at the head-on fights. So identify your play style and play with it.
RELATED: Gaming With Modi: Free Fire ID, Stats, Rank, and More!